You can Breathe Easy at

because Dr. Selby ensures each patient receives "Total Lung Care".
Practicing medicine in the tri-state since the early 1980s, Dr. Selby started his own independent medical practice - "The Lung Centre" - in 2002. Dr. Selby along with the entire staff at The Lung Centre, strives to provide excellent, personalized, and cost-effective pulmonary medical care. Now serving patients at three offices - in Evansville, Newburgh, Morganfield, our service area includes the entire tri-state region of Indiana, Kentucky, and Illinois.

At The Lung Centre, we believe in "always providing excellent patient care" because our staff sees to it that patients receive the best individualized health care possible. We strive to be your 'excellent health care provider', with affordable medical services tailored to your needs.

Dr. Selby is a pulmonologist who specializes in treating chest, breathing, and lung disorders and is currently treating sleep apnea, asthma, COPD, emphysema, lung cancer, occupational lung disease, black lung disease, and pulmonary fibrosis. These conditions may include symptoms such as coughing, snoring, wheezing, and shortness of breath. We treat all ages - children and adults.

We believe that the patient should be the decision-maker
The Lung Centre has been in operation for nearly two decades with the belief that the patient-physician relationship is to be respected, honored, and preserved. We encourage you to learn more about The Lung Centre - Dr. Selby's pulmonology medical practice - and our healthcare offerings to discover how we may be of service to you.
We provide treatment options for:

Coughing

Snoring & Sleep Apnea

Asthma & Wheezing

Shortness of Breath

COPD & Emphysema

Lung Cancer

Pediatric Respiratory Complaints

Occupational Lung Disease

Black Lung

Pulmonary Fibrosis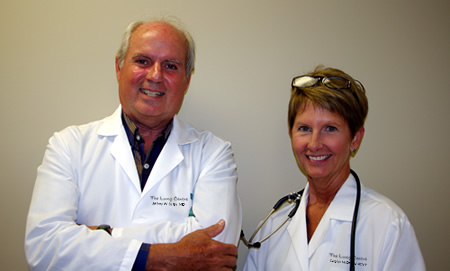 Jeff W. Selby, MD
Physician

Carolyn C. McDonald, ACNP
Nurse Practitioner
TLC is conveniently located and accepting new patients
The Lung Centre is conveniently serving you better from our three offices - in Evansville on Lynch Rd. between I-69 and N. Green River Rd., in Henderson downtown on Third Street, and in Morganfield right off U.S. Hwy 60E.

We are taking new patients today and accept most health insurance plans. Feel free to contact us for more information.